Add an Aqua pool cover.
And cut your water, heating and chemical use.
Get a FREE Quote
A professionally installed, quality Aqua Pool Covers solar blanket can:
Reduce water lost to evaporation by 99%
Cut pool heating costs by over 80%
Limit pool chemical use to around 50%
What's more, the heat that a correctly fitted cover keeps in can extend your pool season by months.
Aqua Pool Covers provide customised solutions for both home and commercial pools – including the Pooltex™ fitted cover, which keeps leaf litter, debris and animals out all year round.
So talk to the specialists at Aqua Pool Covers about what our expertly installed covers can do for you… and your pool. Call 0405 499 774 or fill out our Quote Form for a FREE assessment and quote.
A replacement blanket & reel in Somerville for Poolside. Oasis 500 solar blanket and Hydrotools 'Endurance' Reel.
This was another challenging pool, with clearance required for handrails. Our Hydrotools adjustable reels can be set at multiple heights to clear most handrails if need be.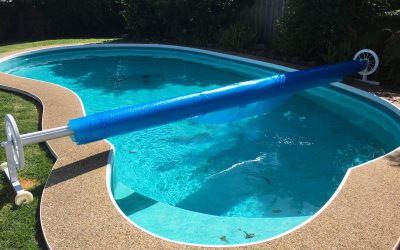 We specialise in making odd shaped pools easier to manage, with the right reel for the job, situated in the right place for ease of use. All pools and surrounds are different and with our expert guidance and quality products, we'll provide the best solution for you...