A professionally installed, quality Aqua Pool Covers solar blanket can:
Reduce water lost to evaporation by 99%
Cut pool heating costs by over 80%
Limit pool chemical use to around 50%
What's more, the heat that a correctly fitted cover keeps in can extend your pool season by months.
Aqua Pool Covers provide customised solutions for both home and commercial pools – including the Pooltex™ fitted cover, which keeps leaf litter, debris and animals out all year round.
So talk to the specialists at Aqua Pool Covers about what our expertly installed covers can do for you… and your pool. Call 0405 499 774 or fill out our Quote Form for a FREE assessment and quote.
Time to start thinking about saving water and heating your pool over the summer months. Contact us about installing a quality solar blanket and reel for your pool and save water, chemicals and energy.
Chris from Heidelberg purchased the TripleCell solar blanket and Endurance reel set up for summer, and the Pooltex leaf & debris winter cover as a package, saving himself hundreds of dollars on installation as well as a discount on the total package. Ask us how...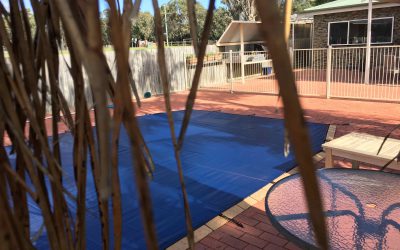 The kids are grown up and the pool rarely gets used anymore?... Time to install a Pooltex leaf & debris winter cover and reduce maintenance, just like Stuart in Langwarrin did. Use your pool in summer and close it for winter with a Pooltex cover. Contact us today...