A professionally installed, quality Aqua Pool Covers solar blanket can:
Reduce water lost to evaporation by 99%
Cut pool heating costs by over 80%
Limit pool chemical use to around 50%
What's more, the heat that a correctly fitted cover keeps in can extend your pool season by months.
Aqua Pool Covers provide customised solutions for both home and commercial pools – including the Pooltex™ fitted cover, which keeps leaf litter, debris and animals out all year round.
So talk to the specialists at Aqua Pool Covers about what our expertly installed covers can do for you… and your pool. Call 0405 499 774 or fill out our Quote Form for a FREE assessment and quote.
Trish was so impressed with our Pooltex installation on her pool in Ascot Vale, she had us install another one on the pool at their holiday home in Sorrento. Contact us today for a quote and close your pool for winter.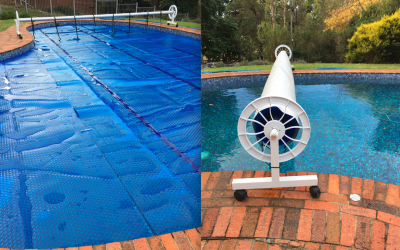 John's pool in Ivanhoe was wider than 7 metres at it's widest point where we would normally situate the reel. 7 metres is the maximum width of any reel, domestic or commercial, so we needed to find a solution that worked easily for John. Creating the 'hinge', the...
This Pooltex installed today for Brett in Sale, just in time as Brett's beautiful but deciduous overhanging tree is just days away from shedding it's leaves.